Game Description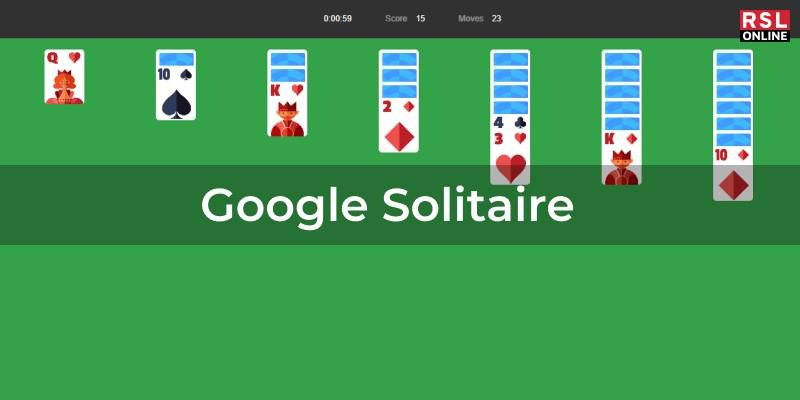 Google Solitaire, developed by Google, is a classic and timeless card game that offers a relaxing and enjoyable gaming experience. This digital version of the popular card game provides millions of players with the perfect way to unwind and exercise their minds.
Game Controls
Playing solitaire is effortless with these straightforward controls:
Mouse: Simply click and drag cards to move them to your desired location.
How to Play Google Solitaire
Objective: The primary objective of Klondike Solitaire is to arrange all cards in each suit into their respective foundation piles, starting with the Ace and ending with the King.
Setup: The game starts with a tableau of seven columns of cards. The first column contains one card, the second two cards, the third three cards, and so on. The top card in each column is face-up, while the rest are face-down.
Card Movement: You can move cards between columns, creating descending sequences of alternating colors (e.g., red and black). A King can be placed on an empty column.
Foundation Piles: Create ascending sequences of cards in the four foundation piles, one for each suit (hearts, diamonds, clubs, and spades). Start with the Ace, followed by the 2, 3, and so on.
Winning: The game is won when all cards are successfully moved to the foundation piles, with each pile containing a complete suit in ascending order.
Tips and Tricks
Enhance your solitaire skills with these helpful strategies:
Plan Your Moves: Strategic planning is essential in solitaire. Think ahead and consider the consequences of each move.
Uncover Face-Down Cards: Prioritize moving cards covering face-down cards whenever possible. This opens up more options and opportunities for movement.
Empty Columns Are Valuable: Utilize empty tableau columns as temporary storage to help you organize your cards more effectively.
Don't Rush: Solitaire is a game of patience. Take your time to analyze the board and make the best moves.
Game Developer
Google Solitaire is developed by Google, one of the world's leading technology companies renowned for its search engine and various web-based services. As part of Google's suite of web-based games and activities, Google Solitaire is designed to offer users a simple and enjoyable card gaming experience directly within the Google search platform. While Google is primarily known for its search engine and software services, it also provides a range of casual web-based games, including classics like Solitaire, to entertain and engage users online.
Game Platforms
You can enjoy Google Solitaire on various platforms, including:
Web Browser: Play the game online directly in your web browser.
Mobile Devices: Download the game on iOS and Android devices to play on the go.
How to Play Unblocked
Playing Google Solitaire unblocked is usually hassle-free:
Check School or Work Restrictions: Ensure that your school or workplace doesn't have strict internet restrictions or content filters that might block gaming websites.
Access through Google: Since Google Solitaire is a Google product, you can often access it directly through your Google account or by searching for "Google Solitaire" in your web browser.
Internet Connection: Ensure a stable internet connection to enjoy uninterrupted solitaire gameplay.
In summary, Google Solitaire offers a classic and relaxing card game experience for players of all ages. With its straightforward rules and timeless appeal, it's the perfect way to unwind and challenge your card-playing skills. Enjoy the digital version of this beloved card game with Google Solitaire!
Conclusion
Google Solitaire offers a simple yet engaging way to enjoy the classic Klondike Solitaire card game directly within your web browser. Developed by Google as part of its web-based gaming offerings, it provides an accessible and convenient way to unwind and test your card-playing skills.
Whether you're a seasoned solitaire player or new to the game, Google Solitaire offers an enjoyable and relaxing gaming experience. Challenge yourself to complete the four foundation piles and hone your card-stacking skills whenever you have a moment to spare. It's a timeless classic available to players on both iOS and Android devices, as well as various other platforms through web browsers, making it a versatile and easily accessible game for all.